Obituary
Ron Wetjen, a resident of Sarasota, Florida, passed away May 9th, 2016 at the age of 55 after a courageous battle with cancer. Ron is lovingly remembered by his mother Brigitte Wetjen, of Sarasota, Fl., sister Sue Wetjen Slaubaugh of Sarasota, brother Jeff Wetjen of Birmingham, Al, nephews Trey and Kyle Wetjen of Fayetteville, TN, and niece Abby Slaubaugh of Sarasota. Ron was born in Lachine, Quebec in 1960. Ron and his family moved to Long Island NY in 1963, and later to Sarasota in 1974. Ron was a 1978 graduate of Sarasota's Riverview High School.
Ron was employed by Business Credentialing Services of Morristown, NJ, and worked as a risk management auditor. Ron was licensed by the FCC as an amateur radio operator in 1976, and received the call sign he would use throughout his 40 years as a ham operator, WD4AHZ. Ron was a highly skilled Morse code operator, and frequently put these skills to the test in international ham radio contesting events. He routinely won awards in these international competitions. In addition to these weekend competitions, Ron enjoyed chatting with his many friends around the world "over the air" to hone his Morse code skills. Outside of his beloved ham radio, Ron volunteered countless hours assisting Sarasota County Emergency Management in the development of backup radio communications systems. In recognition of this work, the Emergency Operations Center's Comm Room was recently named the "Wetjen Radio Room" to honor Ron. On the social side, Ron enjoyed bowling in local leagues, and attending Riverview High School mini reunions and reconnecting with his friends. Ron was a very avid Tampa Bay Lightning fan.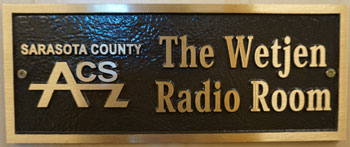 ---
Wetjen Memorial Fund – Ron Wetjen, WD4AHZ
The Wetjen family requests that donations be made in lieu of flowers to a Memorial Fund that has been established in memory of Ron. The Memorial Fund recognizes Ron's lifelong interest in amateur radio contesting, and his outstanding contributions to the hobby.
In recognition of Ron's German heritage, and the strong bonds of friendship forged by Ron over the years with countless German ham operators, the Florida Contest Group (FCG) will match funds donated in Ron's memory, up to a limit of $1,000, to help support the World Radiosport Team Championship, that is organized by German ham operators, and will be held in Germany in 2018. The World Radiosport Team Championship is said to be the "Olympics of Ham Radio" because it brings together top flight ham operators from the world over to participate in an international radiosport competition. It would have been Ron's dream to be a part of such an event as a competitor, so your donation will make that dream come true for Ron in some small way.
To make a contribution to the Wetjen Memorial Fund, please mail a check made payable to the Florida Contest Group to:
Blake Meinecke
FCG Treasurer
1906 Sweet Bay Court
Plant City, FL 33566
Please include "Wetjen Memorial Fund" on the memo line of your check.
Donations may also be sent via PayPal by using the following e-mail address:
flacontestgroup@gmail.com