Announcing the 2022 Orlando Contest Dinner on February 11, 2022
DINNER TICKET SALES ARE CLOSED AS OF FEBRUARY 4th
New location is at St Michael's Episcopal Church,  2499 Westmoreland Dr. (at the corner of Westmoreland & Bryn Mawr St.) Parking on the church campus, behind Quigley Hall, and along both sides of Bryn Mawr as needed. Doors will open at 5:00pm; dinner will be served at approximately 6:15pm.
INFORMATION ON HOW TO ORDER TICKETS FOR THE 2023 DINNER WILL BE PROVIDED WHEN WE HAVE A NEW FCG TREASURER
Please include the following information with your payment
Your callsign
The callsign(s) of anyone for whom you're also ordering tickets
Your email address
Number of banquet tickets you're purchasing at $25/ticket
Number of extra raffle tickets you're purchasing at $10/ticket
Detail of any dues payments you're including (dues are $5 per year and you can check your dues status at https://floridacontestgroup.org/fcg-roster/)
New for 2022 – you may pre-order extra raffle tickets for $10 per ticket. Please note in the memo how many extra tickets you would like to order, and we will prepare the tickets for you to be picked up with your dinner ticket. For participants in the FCG's Frequent Contester Program (FCP), the extra tickets you earned as a part of that contest incentive program will be automatically added to your ticket order.
Additional prize tickets may also be purchased at the dinner for $10 per ticket. Cash only.
Any dinner ticket or raffle ticket payments received after 02/03/2022 will be returned to sender, as we must finalize the number of attendees at that time in order to have a final number for catering, etc.
All payments will be acknowledged by email when they are received and applied. If you send payment and it's not acknowledged in a few days, please contact Joe directly at and he will investigate.
2022 Speaker Admiral Ed Giambastiani N4OC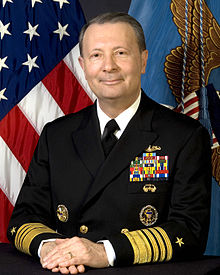 The Florida Contest Group is honored to welcome Admiral Ed Giambastiani, USN, Retired, better known to us as N4OC to the podium in 2022. Admiral Giambastiani retired in 2007 following a distinguished 37-year career in the US Navy that saw him rise to the position of Vice-Chair of the Joint Chiefs of Staff. Ed splits his time between the Washington, DC area and south Florida, and he has more free time now to indulge in his passion for contesting, particularly from the Caribbean. Ed's contesting career spans from the 1970's, when he operated as a part of M/M and M/S teams at W1ZM and other stations in New England, to the 2010's when he was a part of several very successful teams operating from P4 and other Caribbean hotspots.